(10045) EnKon by Herkules designed and built a Belt Drive Scissor lift table to an automakers standards and specifications. The lift needed to handle a six thousand pound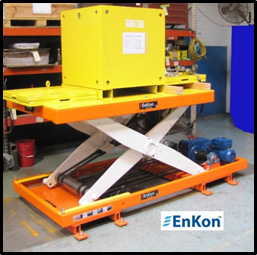 (6000lbs.) load, based on the secondary anti-fall specifications, and include a secondary anti-fall.
This lift was made for the advanced automation assembly line skillet lift system, and employed multiple belts, and was programmed with a variable frequency drive. The lift has high safety factors, and provided very precise and accurate lift. Offering a long life, and high duty cycle, this lift system was not only very reliable and durable, it was also very safe; team members could work, alone, under the vehicle with confidence in the skillet lift assembly line.