The latest news and information about BossLifts by Herkules and our parent company Herkules Equipment Corporation can be found here. For more information about Herkules or Enkon products, please visit their News pages.
Herkules Adds Industry Vet Bonner to Sales Team
December 27, 2016–Herkules is pleased to announce the addition of Mark Bonner to the sales team supporting the BossLifts by Herkules product line. For more information, click here.
Herkules Expands Automotive Lift Line
March 17, 2016 – Herkules Equipment Corporation has two new vehicle lifts joining the company's BossLifts line this spring. For complete press release, click here.
Racing Stars of Tomorrow at SEMA Booth 11139 as Riley Herbst and Ashley Sanford Join Herkules, November 3rd – 5th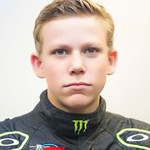 October 2, 2015–Herkules Equipment Corporation is proud to be hosting two of racing's rising stars at SEMA this November. Ashley Sanford will greet fans from 11 a.m.until 1 p.m. Tuesday through Thursday, November 3-5, and Riley Herbst will join the Herkules team those weekday afternoons from 2:30 until 4:30 p.m.